Home » Cake Recipes » Poker Chip Cookies Recipe
NOTE: Dep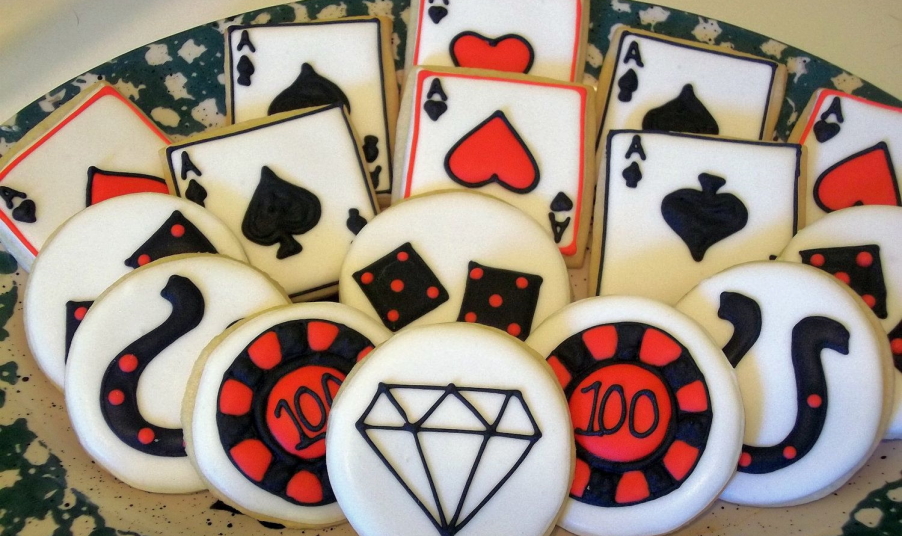 Poker Chip Cookies Recipe
Do you want to have your special casino style party? You may be searching for any casino-themed munchies to go along with that! Why not attempt something as easy as famous Poker Chip Cookies? Easy to prepare, wonderful to eat, and guarantee to please your visitors; they'll believe they have struck the lottery once you decorate cookies for a casino party! This dish yields 35 cookies whether you make chocolate casino chips or some other type, so you'll need the following ingredients to make a poker chip cookies recipe:
Ingredients
250-gram butter
300-gram plain flour
140-gram caster sugar
One egg
Two teaspoonfuls of vanilla extract
Red food colour
Green food colour
Blue food colour
Black food colour
Icing sugar

Method
Would you please turn on the oven and let it heat to Gas point 4/180C before beginning to make the cookies? Pour the butter with caster sugar in a mixing basin and vigorously combine till they form a soft, butter cream-like mixture. Put in the egg, then pour the provided vanilla extract and mix till everything is mixed well. Following that, filter the given quantity of flour into the blend slowly using a sieve, continue to beat the mixture constantly to mix the flour thoroughly.
Next, carefully spread the flour on your work surface and spread the dough material until it's flattened and approximately a half-quarter-inch thick. Then, by using your circular cookie cutter tool, shape your cookies!
Cover your baking pan with a greaseproof sheet, and then layer the cookies over it. Place them inside the heated oven for about 12 minutes; it should not be more than 15 minutes and pull out when they are hard and light brown. Allow it cool for about 15 minutes before beginning to decorate.
You must make your frosting! Make a pot of glace icing by gradually mixing icing sugar & plain water into a mixing dish till you have the desired quantity and texture. It's a question of taste and how you wish your cookies to appear, so keep blending icing sugar with water, constantly stirring, till you have sufficient enough.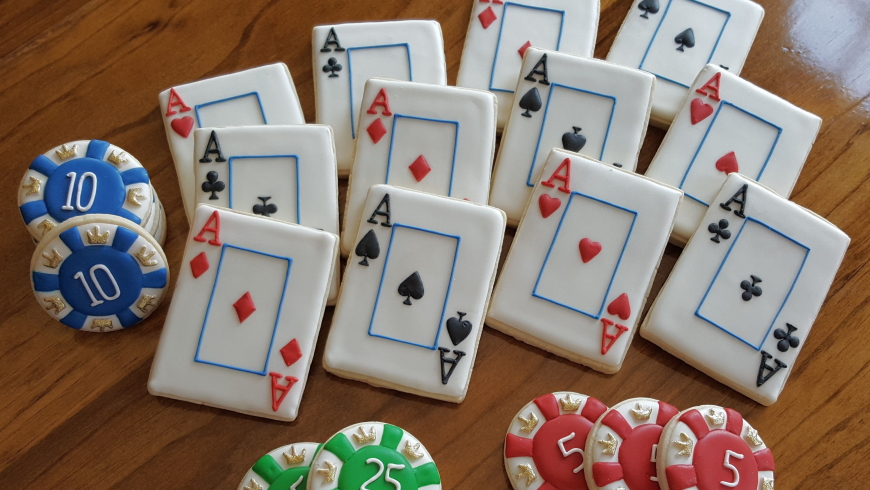 The frosting should then be split into at least five bowls, three of them containing more icing and remaining in the other two. The food colouring should be used to colour the three larger dishes red, green, & blue. Continue to add colour until you get vivid, bright colours. Keep one set of icing in creamy colour and the other set in the black colour.
Decoration
By decorating the cookies in various colours, you can transform them into chips! Decorate them with red, green, or blue icing—make sure they're thoroughly covered! Then let the icing aside to settle. After some time, decorate the cookies with a white and black colour combo with precision and detail, giving it poker chips look.